Family, Hard Work and Healthy Food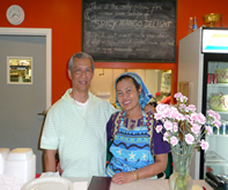 Thai Topaz, a San Antonio favorite, family-owned restaurant, was founded in 2005 by Somchai and Jiraporn Namarsa, my parents. Although Dad and Mom have different educational backgrounds, running a Thai restaurant brings out the best of their talents.
My dad has a mechanical engineering and business background. In Thailand, prior to the restaurant business, he managed a ceramic tile plant, part of the Siam Cement Group (SCG), a multinational, Thai company. In 1990, SCG gave him the opportunity to come to the US to build and manage a new, tile-manufacturing facility in Clarksville, Tennessee. My mom gave up her 20-year teaching career in high school Biology and we moved to the US.
Because of my mom's educational background in Biology and her love for cooking, she started working with a restaurant owner in Nashville, TN controlling the food quality and creating new, healthier, yet tasty dishes. In 1998, she started a food cart business, Thai House, in Madison, Wisconsin. For seven years, Thai House was always ranked in the Top 3 out of 30+ food vendors for cleanliness, taste, and uniqueness. In 2005, my parents decided to move to San Antonio and opened Thai Topaz.
But, why so much moving… from TN, to WI, and finally to TX, one might ask? It was for me, their only child and daughter. I went to high school in TN, college in IL, grad school in WI, med school in CA, and then did my residency in Family Medicine at Texas A&M. It was just the three of us back then, so my parents did whatever they could for us to be together. After the project in Tennessee ended, my dad gave up his promotion and pension rather than move us back to Thailand. For many years, my parents worked 18 hour days. My mom single-handedly sliced 100+ pounds of chicken weekly, rolled hundreds of spring rolls a night, while my dad chopped pounds of squash for the curry in our VERY cold basement in Wisconsin and served customers from their food cart in sub-zero weather. My parents' goal was to make and save money so they could send me to medical school. I know people make sacrifices for their children, and mine always did. But, those years in Wisconsin outdid the rest!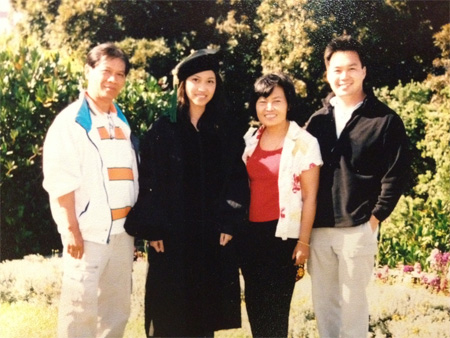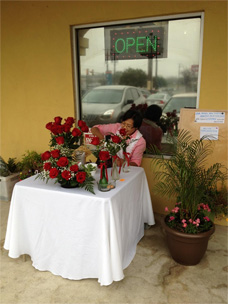 The recipes and sauces for Thai Topaz are long in the making. Even in the 1950s, my grandparents recognized the importance of good nutrition, resulting from the preparation and cooking of fresh meats, vegetables, fruits, herbs, spices, etc. They rarely deep-fried their food and used minimal oil in their stir-fry dishes. My mom grew up making food for her family of seven with innovative and creative techniques to use fresh ingredients and homegrown herbs/spices to cook healthy, delicious food (she still grows herbs such as lemongrass, basil, mint, kaffir lime leaves, etc. in her garden for the restaurant). In college, she catered for large dinner parties and organized many school events. While teaching Biology, she was chosen as the nutritionist to consult with and overlook her high school's cafeteria, food quality. Now, in her 60s, she continues to learn and bring all her experience into the kitchen. In my opinion, she is the Thai Martha Stewart, as she can also carve, knit, crochet, sew, arrange flowers, etc. and has won several contests and awards in doing so.
Since opening Thai Topaz, I have seen my parents introduce a few original recipes (e.g. Spicy Mango Delight, Spicy Basil Fried Rice, Thai Topaz Broccolli, Shrimp Asparagus, Emerald Salmon, etc.), in addition to the many customer-favorite, classic dishes (e.g. Pad Thai, Pad Woon Sen, Pad See Ewe, Yum Nua, Curries, etc.) Surprisingly, I have also seen my parents remove some of my favorite ones (e.g. Roasted Duck Curry, Pumpkin Curry, Massamun, Thai Papaya Salad, etc.) as they told me that few customers tried them while on the menu. But, what has to be our son's favorite (he's almost 3) is the Sweet Sticky Rice w/ Fresh Mangos or the Homemade Coconut/Mango Ice-Cream for dessert. I am slowly convincing my parents to bring back or add more Thai dishes and desserts, as more Texans are experiencing Thai food and appreciating the tastes and blends of herbs, spices, and preparation styles, which are different from the ones used in Chinese, Japanese, Vietnamese, and other Asian cuisines.
To end, I know that your (i.e. Thai Topaz customers') opinion and input matter very much as my parents continually take your suggestions to heart and would like everyone to enjoy the same, warm, family-dining experience we have in our home. On behalf of my parents, I'd like to thank everyone for your continued support. If we can make your experience a better one in any way, please don't hesitate to tell us or drop us a note.
Sincerely,
Somjira Namarsa (Forever, Loving Daughter)